Biography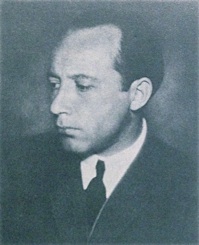 Thöny at the age of 37
Wilhelm Thöny was born on February 10, 1888 in Graz, the son of a prominent businessman. Like his brother Herbert he was musically talented. He studied piano and voice as well as drawing and painting under Anton Marussig. Thöny later studied painting in Munich under Gabriel von Hackl and Angelo Jank.
When Thöny finished his studies he first worked as a graphic designer and illustrator for several publishers. He began showing in exhibitions in 1910 and co-foundered the New Secession in Munich. Alfred Kubin, Franz Marc, and Albert Weißgerber were among his acquaintances.
The outbreak of WW I interfered with Thöny's career. He served as a war artist on the Italian front and then returned to Graz. In 1915 he married an American, Fanny Hilma Walborg-White. The following year his daughter Margaret was born. After the war the family spent several years in Switzerland during which time a collective exhibition of his postwar period presented in Munich met with great success.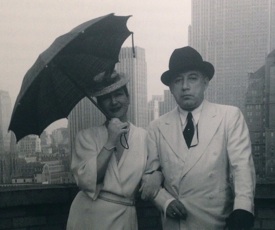 Wilhelm Thöny with his second wife Thea in Manhattan
In 1925 Thöny met Thea Trautner who would later become his second wife. In 1923 Thöny divorced and returned to Graz where he founded the Graz Secession along with artists Alfred Wickenburg and Fritz Silberbauer and was appointed its first president. Thöny also worked for numerous publications including the Munich journal "Jugend" and the Berlin publication "Querschnitt".
Together they enjoyed an active and lively social life in Graz. It was a successful period for the artist: he was represented in numerous exhibitions and sold well. He was awarded the honorary title of professor.
In 1929 the painter spends several weeks in Paris. Two years later he made a permanent move to the French capital that fascinated him. He and Thea remained in Paris until the outbreak of World War II. Thöny received a gold medal at the Paris Exposition in 1937 for his portrait of the Cardinal Archbishop Verdier of Paris.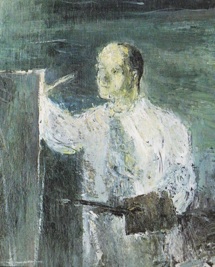 Self-Portrait around 1931
In March 1938, due to the tense situation in Europe ,Thöny and his wife moved to New York. They live in a small apartment in the Barbizon Plaza Hotel overlooking Central Park. The city with its many skyscrapers exerts a special fascination for the artist and he captured the city that never sleeps in many of his artworks. Beginning in 1940 Thöny was represented in numerous major U.S. exhibitions including the New York World's Fair, the Brooklyn Museum, and the Art Institute of Chicago. The Pennsylvania Academy of Fine Arts bought one of his paintings. In 1942 he signed an agreement to be represented by Knoedler Galleries in New York.
In 1948 Thöny suffered a heavy blow: the loss of nearly a thousand works in a fire at Brown's Warehouse where he stored his creations. He took the destruction of most of his life's work very hard and died only a year later on May 1, 1949 from the effects of a stroke. Wilhelm Thöny was only 62 years old.
The artist is now considered one of Austria's greats of modernism. Works of Wilhelm Thöny are found in major European and American museums including the Belvedere and the Albertina in Vienna, the National Gallery in Prague and the Metropolitan Museum in New York.